Our wisteria is almost in full bloom now. It sits over the pergola in our half acre park area of our property and looks amazing and smells amazing too.
This is a great place to be during spring and summer in our garden. And we love to hold garden parties out here – although probably not this year as we have much work to do in the garden. Lots of weeding and tidying up, and planting too.
Now that Graham is fully retired he'll spend a lot more time outside during the week, rather than just weekends. And I've semi-retired. Still running my Virtual Assistant business, but sold off my web hosting business which has freed up a lot of time now. So I can be out working in the garden and taking more photos too. Hopefully, in a year's time, we'll be able to look back and see a vast improvement on our property. Can't wait to have another garden party and show it off!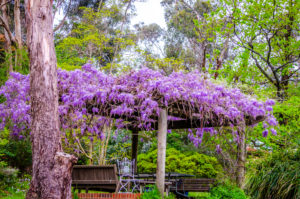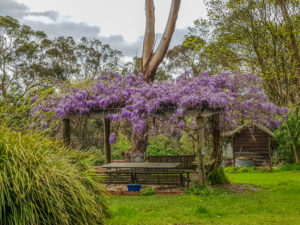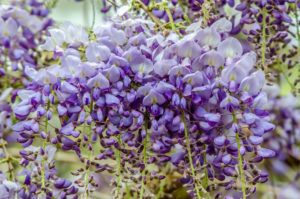 I joined a local photography group outing just recently and we went to the Alowyn Gardens in Yarra Glen. There they have a huge wisteria tunnel – well, two tunnels. The owner, Prue, tells me their wisteria is the Japanese one which opens later than ours. It also seems to hang longer than ours does too. It was amazing to see recently – not yet fully out, but hoping to go see it again soon when it's fully out.