Well, it's so good that we now have cooler weather with recent rains. And more rain due this coming week. BUT, this weekend we had perfect weather for planting. Blue skies and sunshine on Saturday, cloudy on Sunday but dry, with a bit of wind. But not too much. And we didn't have other events on to get in the way of our plans.
On Friday I'd gone to pick up some more plants from our favourite garden shop (Plantmark) and Saturday afternoon we went back to get even more as we knew we'd finish planting the lot we had, early Sunday afternoon.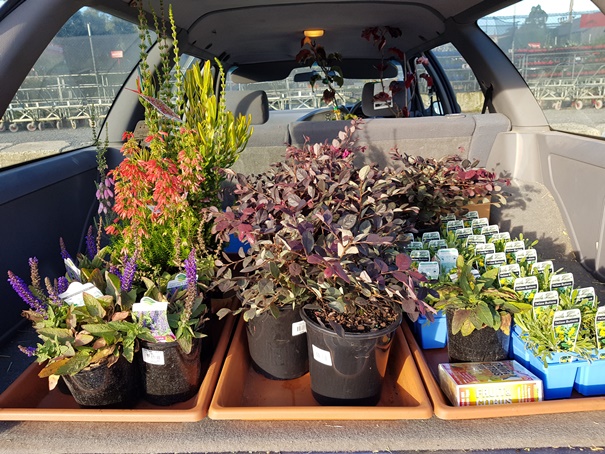 I blew up the plan we have and took a snapshot of the two areas we were going to work in – one small bed and one much larger one. Then I marked them up with the plants to go in. There are about 3 that we couldn't source, due to the wrong season, so we just have to leave a space for them, for now.  Graham had gotten some yellow water based spray paint to mark out the areas on the ground so we could put the pots in place, to see how they would look before we started on the ground work.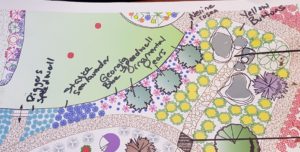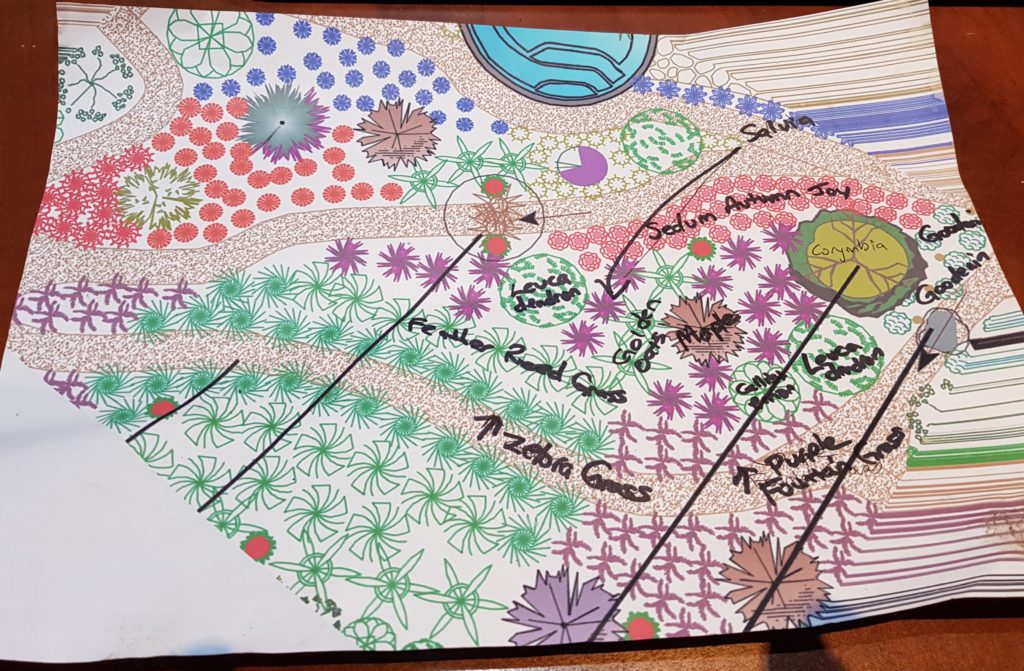 Overall, we got 120 plants into the ground this past weekend: trees, bushes and ground covers. Thank goodness for the Power Planter which really does cut down on the amount of work required to dig holes. Instead, we drill the holes and only a couple of times did Graham have to get the mattock out for hard ground or to lift a rock in the ground. Here are some pics from our plantings Saturday and Sunday. And a list of what we've planted:
Miscanthus Zebrinus (zebra grass), Purple Fountain Grass, Goodenia ovata, Sedum Autumn Joy (almost out of season so couldn't get the full quota we wanted), Salvia Sensation Blue, Callistemon Taree Pink, Yellow Buttons, Pyrus Calleryana 'Capital', Acer October Glory, Corymbia Ficifolia, Leucadendron Pot of Gold, Leucadendron Golden Fireworks, Ericaflora Bridal Pink Blush, Ericaflora Ruby Glow, Ericaflora Winter Fire.
Can't wait to see the growth that has taken place by this time next year, hopefully a good amount!