It's been months since we've been able to do any new planting in the paddock. We've just kept the existing plant life alive during the hot and dry summer and much of our Autumn, to date, has been dry too. We did have a lovely almost 20mm of rain nearly two weeks ago but that's all.
I shared the post below from the Australian Butterfly Conservation on my Facebook garden group recently and commented that we wanted to do a section of our garden like this. Donna, who is a member of the group, and who owns Recycled Roots and Leaves shared she'd recently received a couple of sacks of the same type of grasses and they were ours if we wanted them. I was delighted. It didn't take me long to head up to Donna's new shop in Monbulk to purchase the grasses.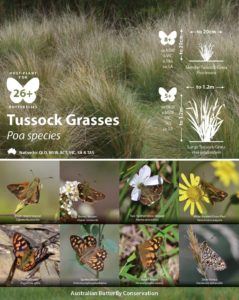 I knew the perfect spot for them – down the bottom corner which does get a reasonable amount of shade late in the day.  We spent Saturday weeding, preparing and planting these grasses – well over 100 of them. Thank goodness for the Fiskars Xact weeder and our Power Planter which saved us considerable time and we didn't have to bend over too much. We still have some grasses left over to get in the ground and we're keeping them damp in the sack with the intention of doing a few more each night during the week till they're done.
Graham and I were pleased with our efforts just 24 hours after collecting the grasses – below is a video of how it looked before we got started and some progress shots of what we achieved.  We also discovered some bursaria spinosa and native maidenhair fern, sword grass and goodenia growing in the section so we left them there. We are thrilled to have quite a number of native bushes, grasses and other plants growing naturally in this paddock.
We had to connect 3 hoses to reach down to the bottom corner so we could water the grasses. That will remain set up for a couple of weeks till we are sure they're settled in – or when we get some reasonable rain.
It is hoped, that as these grasses take and grow, it will increase the number of butterflies, pollinators and skinks, as well as small birds in this section. After all, this part of our property is about being a Garden 4 Wildlife. So the post above about Tussock Grasses will hopefully achieve what we've set out to do.