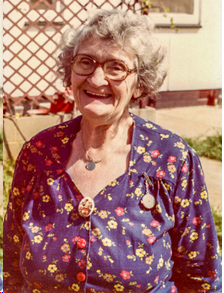 This lady is my Grandmother and I would say she's the one responsible for my love of gardens, flowers, art, poetry, writing stories, music and so on. I loved spending school holidays with her, building things with Lego, learning pieces of music on her piano, or watching her and listening to her play her piano, mandolin, banjo and mouth organ. She wrote her own music. And so many stories to share about her own growing up and the things she did. Grandma had a lovely cottage garden filled with Canna Lilies, Marigolds, Cosmos and many other plants on a fairly large block in South Australia. A huge walnut tree that we climbed as kids. An outdoor dunny in the backyard in my younger days.  A toilet was later built into the house. A beautiful house that was quite old even then.
My other grandparents also had a garden, their's was a vegetable garden, for the most part, in a small suburban backyard. There were footpaths around each section and a chookpen alongside one fence.  My sisters, brother and I loved to go collect the eggs and watch the chickens, and also help look for vegetables to pick. I have many happy memories, as a child, visiting my grandparents with my parents.
Their influence is still reflected in my life today. I've always loved growing plants, bushes, trees and seeing their changing structures as time passes by. Noticing each new flower bud, marveling in the beauty of each newly opened flower. Seeing the insects on those flowers. I remember planting tomatoes in my parent's garden as a teenager just so I could experience growing food. One of my Uncles was a photographer and this also influenced me, in my early teens, to get my first camera and experiment. But it wasn't till much later in my life that photography became something I do every single day of the week, every week of the month, every month of the year. And it's been combined with my love of gardens and nature – and that all came together once my husband and I shifted here to the Dandenong Ranges almost 11 years ago. Over the next few weeks I'll share on how I got started and some tips on garden photography to help you, enjoy your garden more too.