This covers the period 21-31 May 2017, so weeks 1 and 2 of our project.
My husband and I have lived here in Selby for almost 8 years. We've added a lot to the garden at the front of the property, but behind, there is a tennis court and a 3/4 acre bush paddock. For almost 7 years there were sheep in the paddock, primarily to keep the grass down. Nothing else. A couple of years ago I began dreaming of turning this space into a garden and spoke of it often. My husband wasn't so sure but eventually he agreed that we should rehome the sheep and start planting in the paddock. But… it was such a huge job and hard to try and work out what to do and where. We began planting near a large rocky outcrop however it was soon evident that weeds would take over everywhere else. Time to get serious.
I did some research for garden designers and then contacted the Horticultural Media Association (of which I am a member) asking for advice about designers. Three were recommended to me as worth contacting and we outlined what we were looking for. One came back with the type of answers that were just right for us and we engaged her to create a plan. My husband was giving me this as a birthday present but I also knew that was a go ahead for getting this project underway.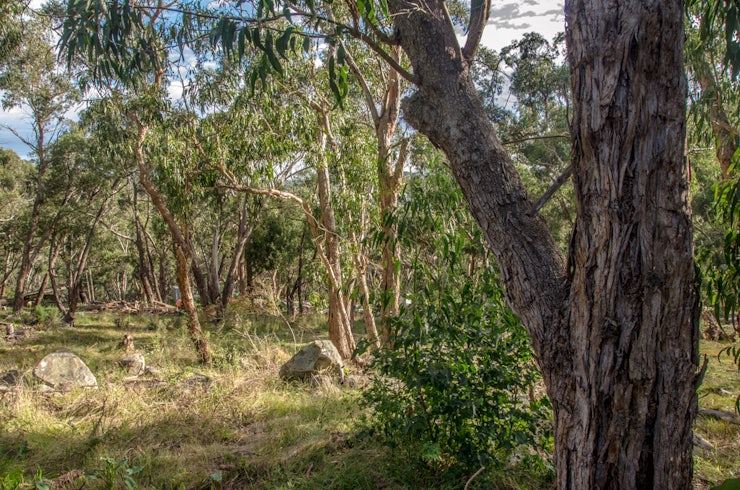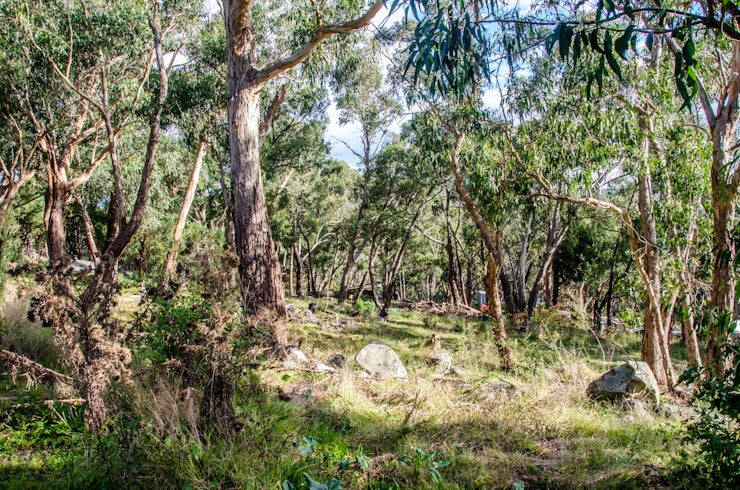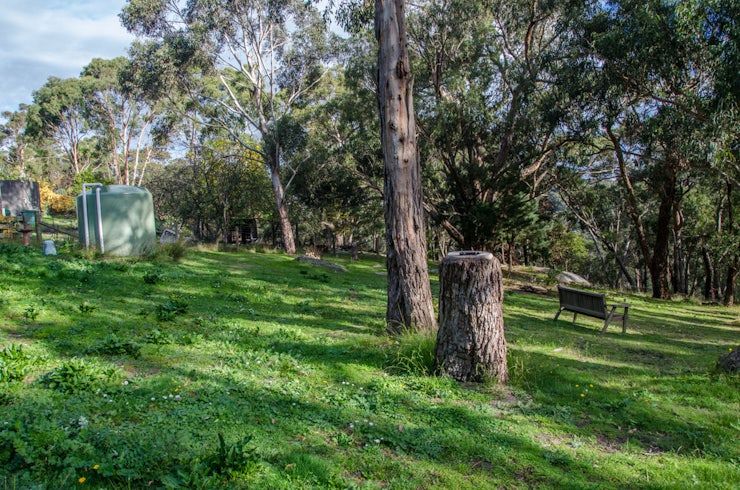 By early December we had our plan but were going away on holiday so it had to wait till that, Christmas and the New Year were past before we could seriously start seeking out landscapers who do major earth works. I put out a call at the Hills & Dandenongs Facebook group as there are a lot of people there, most of whom live in this area and we got a number of recommendations, plus we found some online. We spent hours going through website and Facebook photos, looking for businesses that did what we wanted, on the scale or size of our project. We settled on three, sent emails outlining what we wanted and organised appointments so they could meet with our garden designer and us, and be briefed. Then it was a time of waiting for quotes to come through, adjustments to be made, quotes to be updated. Who knew it would be such a loooooooong process? Finally by late April we were able to make a decision. And here I am, champing at the bit, wanting to get this thing started before winter! My original hope was that we'd be planting in Autumn. There went that idea!
By third week of May the contract was signed, deposit was made and work begun.  In this post, and future posts, you are going to see the progress of our paddock cum garden.  In it will be two dry creek beds, that will have run off rain from rainwater tanks and the driveway, plus water collected on the tennis court that drains away, leading to a billabong. On the billabong will be a sturdy deck on which we can sit and stand. There will be more east/west pathways and a couple of north/south pathways connecting them. Our property front is east, the back, where the paddock is, is west. It has many gum trees on it and we are working around them. The pathways will split up the land which will become garden beds and we will populate them with native bushes, groundcovers and other flora. But we will also include deciduous trees to provide shade in the summer and sunlight in the winter, plus a copse of silver birches, underplanted by hellobores, kniphofia, daffodils and cyclamen. There will also be a rose garden bed, and a lawn with a firepit. If you want to see some great ideas for firepits, have a read of this post by Laughlin Design Associates. Some great ideas there.
So yes, a big project and I look forward to sharing it with you. Above are images taken before the project began. Below are images from week 1.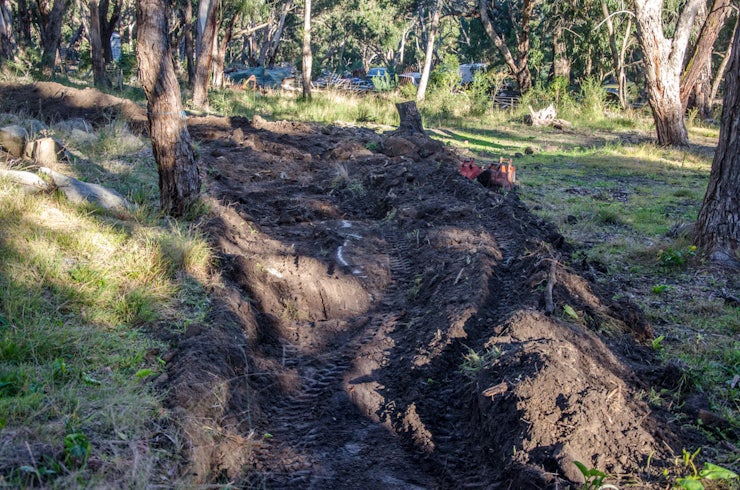 And so the earthworks begin near end of May
The beginnings of our billabong
We had 50 cubic metres of rock delivered – would they really use that much?