Garden Blogs
Wow! What can I say? Firstly, thank you so much to my friend Jan for alerting me to the fact that Phillip Johnson was going to speak at the Belgrave View Club. Never heard of the View Club before. They are a women's group that supports charities like the Smith Family. I did find it interesting to hear that a number of women there had no idea who Phillip is but I let them know that's why my friend Catriona and I were there – to listen to Phillip! But we later learnt that half the committee of the View Club are also members of the Ferny Creek Horticultural Society and no doubt they were responsible for getting Phillip in as a speaker.
Are you wondering who Phillip Johnson is? If you're into gardening you'll probably know, but just in case… Phillip lives here in the Dandenong Ranges and is a very well known landscape designer. Not only that, but he took out the top award 5 years ago at the Chelsea Garden Show in the UK. That's THE TOP AWARD in the world!  In the horticultural world, that is.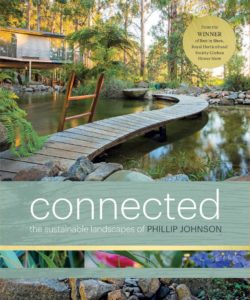 So, so glad, I went. I was planning to stay only till 2pm but then learnt Phillip wasn't speaking till about then so elected to stay for another hour, maybe. Wrong! I stayed till the finish! And bought a copy of his book (same title as this blog post).
Phillip is a bundle of energy and enthusiasm. So inspiring. Honestly I can't even think about work right now, after just coming home. I was going to leave early but I couldn't. Too fired up with what I'd heard and seen, as Phillip shared photos and videos on the big screen during his talk. Perhaps we should have approached him for our landscaping job here at home last year. Graham and I chose to do the planting ourselves but it is going to take considerable time as we both work and only have weekends available.
Cat and I were delighted that Phillip came to sit at our table! We were able to chat to him, ask him questions and listen to him. Perfect! We both scribbled notes during his presentation, totally inspired and enthralled.
Phillip shared about different gardens he'd worked on, showed us a plant named Lythrum which is ideal for lining billabongs – now trying to source this plant to buy up stock for our own billabong. He told us about his desire to connect children with nature and bring back nature into urban gardens. He spoke of the Chelsea Gardens event he participated in. 2 years in the planning, 17 days with 18 hours each day putting together their display with a group of volunteers – he emphasised how this and the red poppy project later carried out was all done by volunteers. After winning the Chelsea Gardens award he'd had 170 interviews and once he came back – months and months of no work. Everyone thought he was no longer affordable – or available. Wrong thinking! I hope you're taking notice?
I sincerely hope this isn't the last time I get to see Phillip and speak with him. Makes me think even more about our own paddock project here at home and the desire to turn it into a habitat and garden for wildlife, a project in the Shire of Yarra Ranges, of which we are a part. Phillip showed before and after photos, then photos a year later, 3 years later with some properties. Can't wait for ours to get to the point of growth. And to be able to go and photograph such gardens, for me, would be a dream come true. As would attending the Chelsea Garden Show to photograph it. I know in the UK you have to get a permit and, I believe, pass a test, to be eligible to commercially take photos at the show. I wish!
I'm fairly new to garden blogging – and this has grown out of my passion for gardening and garden photography. It's a great way to showcase my photos and my passion.
Today, however, I want to tell you about some other garden bloggers whose sites I absolutely love. It's no secret that the UK is the garden empire – at least I think it is, so there's no surprise when some of those blogs are from the UK. They also have a fantastic garden photography industry there – something I'd like to see here too. I belong to a Garden Bloggers group on Facebook and most members are in the UK, so I guess we all get to learn something there, as well as what I share for our location. Don't know if I'm the only Aussie in the group – haven't met any others yet.
My absolute visual favourite is The Mindful Gardener by Alison Battye. Her subtitle is "The sensory pleasures and earthy delights of gardening" and her site is certainly that. If you've never seen it before, I urge you to pay it a visit and read and just absorb the visuals. I love the design so much I'm tempted to change mine! 🙂
Another is the Chatty Gardener by Mandy Bradshaw. Great articles and images. I need to find more time to write to my own! I always have lots of images, just not as much time for writing as I'd like. Trying to make sure I put aside Fridays for it now. I love that I can learn from other bloggers like Mandy.
Gardening by Design by Alison Marsden is another great read. Lots of hints and tips and advice re planning and designing your garden and being soil aware.
And it's always interested to read what is being planted, and when, on the other side of the planet, as Kevin W Gelder does on his latest post. I encourage you to go and have a read.
I do have other blogs I like too, Australian ones, and they are linked in the side menu of this blog for you to view and visit.
If you, like me, have been despairing of a long dry summer (as it has been in Victoria and other parts of our country) then seeing and reading about the English gardens can possibly help you feel better – or perhaps, at least, put you into a 'fantasy world' for a period of time where you can dream about what you'd like to do for your garden, before coming back to reality. For me, I am so hankering for some decent rain – not a deluge where the ground doesn't get to take it in and things get washed away, but some decent soaking, long and gentle rains over a few weeks. We so badly need it. Our water tanks are low (we live entirely on tank water – no mains where we are) and we've had to make decisions, sadly, on what to maintain, and what not to. Our concerns are if we do get water brought in, how much chlorine might be in it and if we get heavy rains later, how much of that would wash into our billabong from overflow. We do not want to kill off our fish or the eco system that is now well developed there. Our bush paddock garden is still young so needs to be nursed and we've lost some young plants but others are surviving, with little water, which is good. The plan is to establish as much as we can that requires little water, once established – it's just getting them through the first summer that's so important.
However, we do have other things coping. Was very surprised to see the Bella Donna Lilies show up already. And the Lotus plant is flourishing in the billabong – clearly the conditions for it are right, which is great to see!