Thank you for reading my blog. I am both a gardener and garden photographer in the Dandenong Ranges, Victoria, Australia and the more I learn about horticulture the more I'm in love with our Australian native plants.  And this time of year (Spring) is filled with open gardens and garden events – love it.
Did you know that Australia celebrates its very first National Gardening Week from 8-14 October? This is to encourage the whole country to be out in their gardens, getting more fit and creating a beautiful environment for themselves and for the local wildlife. This was officially launched and announced at this year's Melbourne International Flower & Garden Show and it is exciting to know that the benefits of gardening are being officially recognised.  And it's mainly thanks to the Gardening Clubs of Australia President, George Hoad.
While having a lovely garden, big or small, is the ultimate result, the side benefits are very much connected to physical and mental wellbeing, providing an opportunity for social connections or solitude, whatever your choice, as well as a great deal of satisfaction. There are huge environmental, social and health benefits.
My husband and I work well in the garden together, doing different things with a common goal in whatever area we're working in. It's such a satisfying thing and very bonding too. We discuss what each part of our garden needs and which aspects we'll each work with. I love planting and watching each thing grow. My husband likes to get in and do some of the physical things that I can't do as easily and it provides him with opportunity to get a number of 'boys toys' too 🙂  He loves his Power Planter which is like a mini auger and it certainly does the trick.  We also have a Hamilton Planter for tubestock which I find easy to use. Both these items not only save a lot of time, they also save our backs. He also has a small cultivator, again a real time saver and works well. Makes it so much easier to get the work done when there's just the two of us – and we're not young.  It would be nice to have some help but at this stage it's just the two of us.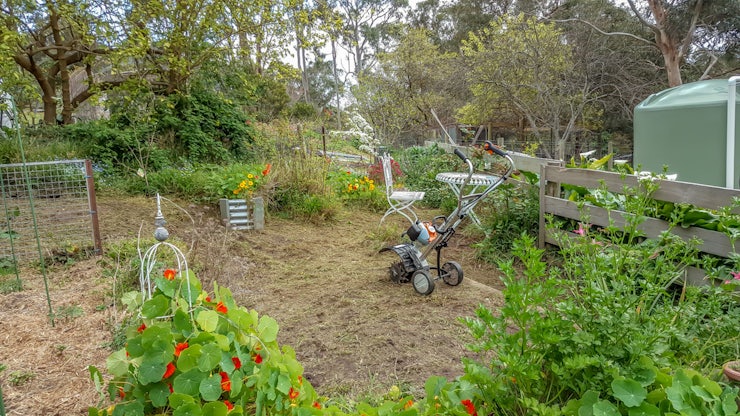 Going back to National Gardening Week I've not really seen much promotion about it, especially events. Are Garden Clubs promoting events within but others are unaware of them? In the UK they have a great site that encourages people to register their events for their National Gardening Week and it would be good to see the same here. So, to kick things off I want to tell you about an event my husband and I are having on our own property on 7 October (the day before it all kicks off). We're having our own High Tea Garden Party here in Selby with around 30-40 people coming, bringing their own lunch, seats and/or blankets for the ground. We had a similar party in Autumn and many asked when we were doing it again.  And yes, we are! Everyone who attended brought with them, a potted plant, a cutting, a seedling or seeds to swap. We put all on a trestle table and everyone got to choose what they wanted to take home with them at the end of the event. It went so well – we also benefited by whatever was left over for our garden. I delighted in getting a number of china teapots and teacups and saucers from a local op shop and dressed up the table under our pergola with table cloths and chinaware for the occasion. I dressed up with a dress and hat for the event – I might again.  We also have lawns for children to play on, a tennis court for people to use and pathways in our new paddock garden to walk or run along. All we need is nice weather and that is looking hopeful too.  The image at the top of this post is the pergola and lawn area where our garden party will be held on the weekend.
This article shares on a small number of gardening events happening next week so if one is near you, why not join in? If you are having an event, let me know and I can list it on my Events page – or leave it in the comments below so others can read about it too.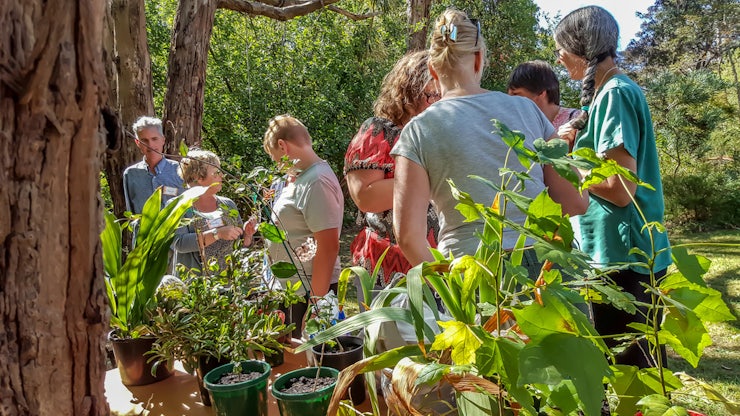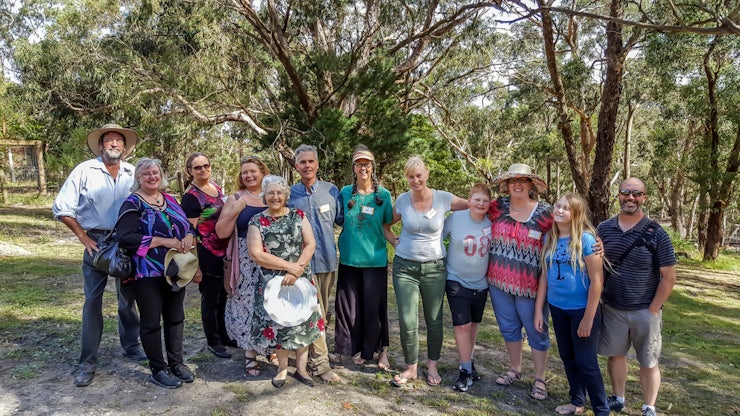 Just some of the group that attended our Autumn Garden Party. The area behind them now looks massively different from the work we've been having done over the past few months.
My husband walking one of the many paths we have in our new paddock garden.